The GaMi16 was sold in a package of good quality and elegant level. In the box there were, besides the camera, some other accessories that completed the set: a leather case, generally a standard case, the other special cases were sold separately, a film cartridge of Ferraniacolor negative color, a special cartridge to test the camera without the film, a carryng chain, the booklet and the summary instructions, the test certificate with serial number and signed by the tester, the registration card. After the first years of production a list of the dealers of GaMi16 in the world was enclosed.
There are, at least, three versions of the box of the GaMi16.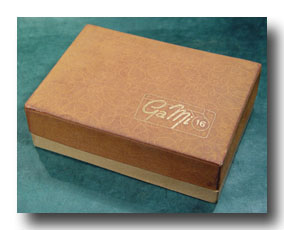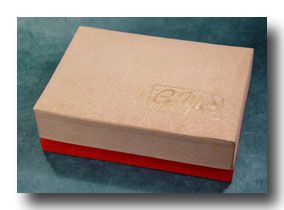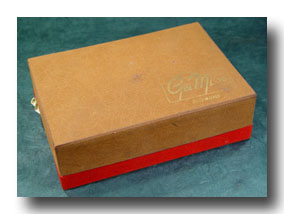 Three versions of the GaMi16 box
The first GaMi16 package was as seen in the picture: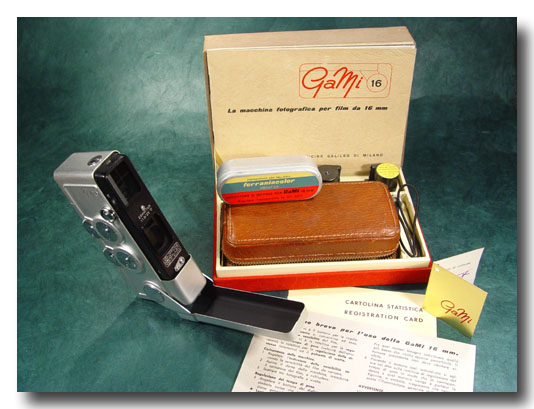 The first type of italian packaging of GaMi16 n.339153
This is the first version of the packaging. Inside there are a booklet, a Ferraniacolor cartridge Code:Gafen 1667, a special cartridge to test the camera without the film, summary istructions, registration card, test certificate and the case.
The GaMi16 with the exposure meter to 200asa had a different booklet with green cover for the english version, a metalic carryng chain, a booklet titled "Servizio e depositi film" (Films and Services), where the GaMi16 dealers in the world were listed. The Gami16 was sold in 126 cities in the world. The other accessories were the same of the first version.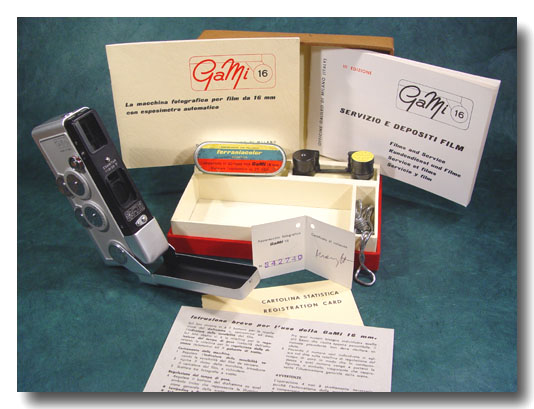 Second version of packaging for italian market. GaMi16 n.342740
Below there are the two different English versions of the booklet.


First english version of the booklet since 1955


Second english version of the booklet, with green cover, since January 1959